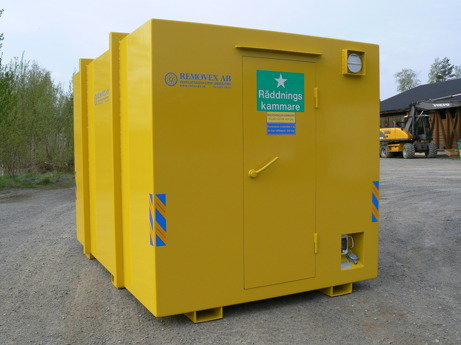 The size of the chamber is so that the workers can move and stand up. This makes the chamber feel less "claustrophobic". This is very important, since a calm mind is vitally important in an emergancy - you act calmer and safer, and the body then uses considerably less oxygen. The rescue chamber is equipped with 230V electrical outlet and a 450W radiator to keep the warmth and to keep the humidity out. There are also lightning. The seats and the backrests are padded for added comfort and to reduce the stress factor in an emergancy.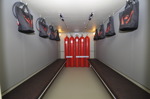 Removex rescue chambers are easy to use in an emargency. Turn the valve on the tube so the air comes out in the system, connenct the hose to the connection in the ceiling, put on the mask and take a deep breath and wait for help. If the rescue team comes to the chamber for evacuation of the mine/tunnel, the masks do not need to be removed. The worker can easily connect his mask to the smoke divers breating equipment and leave the chamber.
According to generally accepted rules, a person needs 40 liters air/minute the first 2 hours and the 20 liters air/minute for at least 6-8 hours. So for eight hours the need is 12 000 liters of air.
In a 50 liters 200 bar air tube there is 10 000 liter of air.
In a 80 liters 300 bar air tube there is 24 000 liter of air.

In a standard Removex rescue chamber, there is 1 tube with 80 liter 300 bar for every two persons. This means that there is air for up to 8 hours per person.

As standard we have rescue chambers for 6, 8 and 10 persons.
| | | | |
| --- | --- | --- | --- |
| Art.No. | Number of masks | Dimensions LxWxH mm | Weight excl. tubes |
| RG-6 | 6 | 2250 x 2000 x 2000 | 1750 kg |
| RG-8 | 8 | 3000 x 2000 x 2000 | 2580 kg |
| RG-10 | 10 | 3750 x 2000 x 2000 | 3080 kg |



Removex rescue chambers are manufacture to protect against smoke and gas in case of fire or accident.

Removex rescue chambers are manufactured to be very robust, they are made with 8 mm steel with extra reinforcements around. It is made to be easily transported within the mine or tunnel - it should be located as close to the workers as possible.